Are you like me? Do you fall down a rabbit hole of instagram baking pics, three hours goes by and it's time to put on your pajamas? Do you refuse to chuck out your recipe magazines just in case you might want to try that one recipe even though you've had the mag for 5 years?
GUILTY AS CHARGED.
In my defense, I bake from my magazine stack AND even go so far as to categorize IG baking pics because I do go back and bake from them. One of my favorite profiles is thebakefeed. If you're trying to reach me and there's no response, I'm probably staring at the feed and rooting through my cupboard to see if I have all the ingredients to make 3-5 things on there.
Recently I spotted this coffee cake. A sucker for anything with lemons, down the hole I went. To everyone who thinks it's lame to just bake from other people's recipes: no it's not. The challenge is in seeing if you can pull it off. I upped the ante by making my own lemon curd vs going the store bought route and am here to report that if you have never made your own lemon curd you'd best course correct because you have robbed yourself. Evidence below.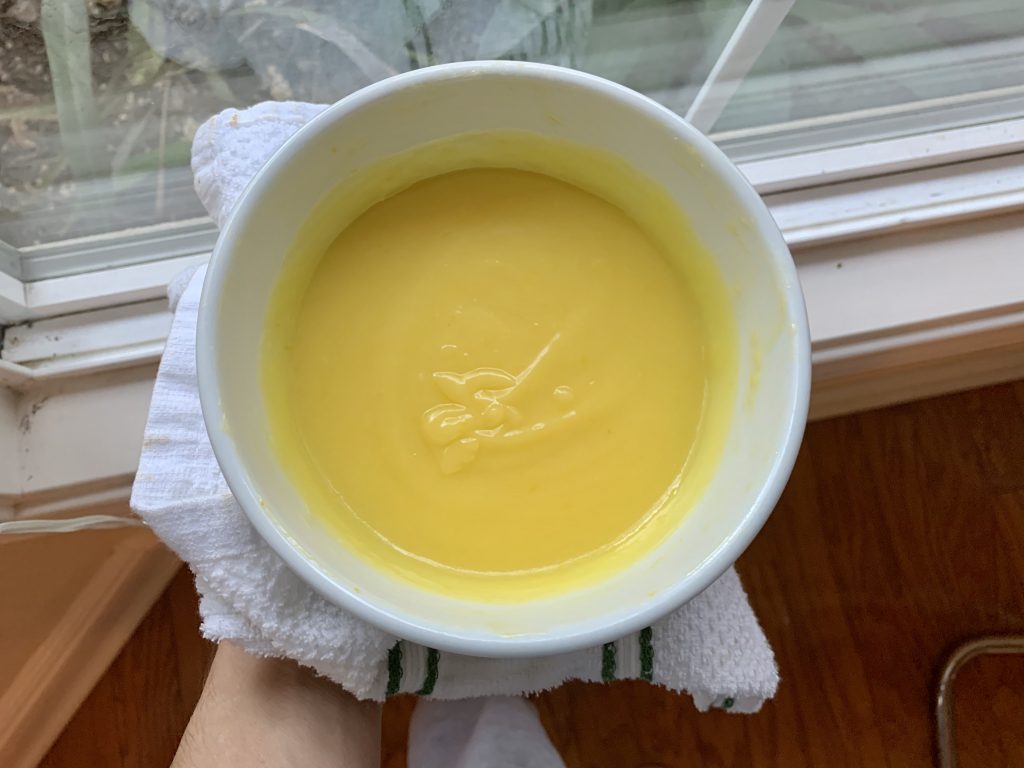 This is the lemon curd recipe I used. It's simple and well worth it.
Here is the recipe I used from the bake from scratch website. If you opt to click over there and print, be sure to note that in step 4 you add 1 and 1/4 cups of flour – NOT just 1/4 cup – without the proper amount of flour you will be out a lot of lemons, time and energy.
Meyer Lemon Olive Oil Coffee Cake
Makes 1 (8-inch) cake
Ingredients
2 cups (250 grams) all-purpose flour, divided
3 tablespoons (42 grams) firmly packed light brown sugar
1⁄2 cup (100 grams) plus 11⁄2 tablespoons (18 grams) granulated sugar, divided
2 1⁄2 teaspoons (5 grams) Meyer lemon zest, divided
5 teaspoons (25 grams) fresh Meyer lemon juice, divided
1 teaspoon (3 grams) kosher salt, divided
9 tablespoons (126 grams) unsalted butter, melted and divided
2 large eggs (100 grams)
1⁄3 cup (75 grams) extra-virgin olive oil
1 teaspoon (5 grams) baking powder
2 tablespoons (30 grams) sour cream
1⁄4 cup (80 grams) prepared lemon curd
Garnish: confectioners' sugar
Instructions
Preheat oven to 350°F (180°C). Butter and flour an 8-inch round tall-sided cake pan.
In a medium bowl, whisk together 3⁄4 cup (94 grams) flour, brown sugar, 1 1⁄2 tablespoons (18 grams) granulated sugar, 1 teaspoon(2 grams) lemon zest, 1 teaspoon (5 grams) lemon juice, and 1⁄2 teaspoon (1.5 grams) salt. Drizzle with 5 tablespoons (70 grams) melted butter, and stir with a wooden spoon until combined. Crumble with your fingertips until desired consistency is reached. Set aside.
In the bowl of a stand mixer fitted with the paddle attachment, beat eggs, oil, and remaining 1⁄2 cup (100 grams) granulated sugar at medium-high speed until thick and pale yellow, 5 to 6 minutes. Stir in remaining 4 tablespoons (56 grams) melted butter, remaining 1⁄2 teaspoons (3 grams) lemon zest, and remaining 4 teaspoons (20 grams) lemon juice until combined.
In a medium bowl, whisk together baking powder, remaining 1 and 1⁄4 cups (156 grams) flour, and remaining 1⁄2 teaspoon (1.5 grams) salt. With mixer on low speed, gradually add flour mixture to egg mixture, beating just until combined. Stir in sour cream. Pour three-fourths of batter into prepared pan. Spread with lemon curd, and top with remaining batter, smoothing top with an offset spatula. Sprinkle with streusel.
Bake until a wooden pick inserted in center comes out clean, 30 to 35 minutes. Let cool in pan for 15 minutes. Run a sharp knife around edges of cake to loosen sides. Invert onto a plate, and then invert again onto a wire rack. Let cool completely. Garnish with confectioners' sugar, if desired.
I definitely lightly dusted with the confectioner's sugar after sampling it without, it just toned down the olive oil a little. And yes there is leftover lemon curd and yes we are eating just a little dollop of it next to the coffee cake for that extra extra.
Notes: this is not a high rising cake so if you bake it and think you made a mistake, you didn't. I cut into it silently cussing out the baking powder for being old (it wasn't) and turns out the cake was perfect. Just a little crumb, not overwhelming and that perfect taste of citrus in winter.