I wrote this on day 14 of the quarantine and just found it.
---
It's day 14 of the quarantine.
I just got home from the grocery store where I wore disposable gloves. The items I purchased are all resting in a clorox spritz for 15 minutes before I wipe them off and put them in the cupboard. I've washed my hands M*A*S*H style (3 separate times just to be sure) with soap and warm water while silently singing the Happy Birthday song twice and thrown all the clothing I wore in public into the wash.
Is my throat itchy?
I forgot ricotta cheese. I wonder if any was left on the shelf?
I don't want to go back to the grocery for two weeks.
*googles how to make ricotta cheese*
I think my throat is itchy.
This is the new normal. It is the year 2020 and we are in a global pandemic. Here in Southern California we live by the beach but cannot go to the beach. We stared at the fools on the news, clumped up on the beach and on the hiking trails after they were specifically told to STAY HOME, and then the beaches and trails were closed. Some beaches are open but you can't park there and it's only a matter of time until those ones are also chained off when the Uber drivers start dropping off the aforementioned group of people who were on ABC7 Eyewitness News only days ago.
The inside of my nose is itchy. Is that one of the symptoms? Don't look it up.
On the weekend I had to pick up a produce drop at the Farmer's Market. Less than 12 hours earlier the Governor reinforced the need to keep at least 6ft between you and any other human being if you have to be in public. Within 3 minutes of entering the market, while waiting for the Farmer to grab the boxes, a large woman in bright orange and red printed pajama pants, a red tank top and coordinating face mask shoved me out of the way demanding to know, "WHERE IS THE CELERY? I PAID FOR CELERY DOWN THERE AND I WANT IT."
Farmer and I looking at each other with the side/bug eyes.
Me to the woman: Have you been watching the news?
Her ignoring me.
Me: Excuse me, have you been watching the news? You're touching me.
Her ignoring me.
Me: HEY I TRIED TO BE NICE TO YOU BUT YOU CLEARLY AREN'T INTERESTED IN LISTENING SO I'M GOING TO TELL YOU TO STEP THE FUCK 6 FT AWAY FROM ME RIGHT NOW.
Her: I'm here to get my celery, IS THAT OKAY WITH YOU? I PAID for it.
Me: NO. It is not okay with me. Step away. GET BACK. Do you see these lines chalked out circles with the x marks? GET IN ONE and smarten up, for all our sakes.
Farmer: Here is your box. Here is an extra set of gloves. Call me this week and we can figure out a better way. Thank you.
Her: DO YOU HAVE ANY EXTRA GLOVES?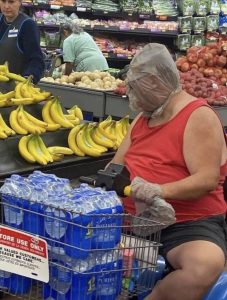 World meet barb. She has a sister named karen and they have a wall of Charmin, Cottonelle and Angel Soft lining the walls of the spare bedrooms in their 4000sq ft homes. Barb has 30 Red Baron Pizzas, 14 cartons of Breyer's Ice Cream, and other miscellaneous snacks in her deep freeze. She'll never run out of Bounty Paper Towels. She saved her receipts to return any leftovers after the plague passes.
The drug store has a picture of her and her family on their Do Not Sell To These People <they are all related and each buy one roll of toilet paper and go to separate checkout  lines> Wall.
***This is as far as I got because I heard a chip bag rustle and ran off to see if Chris was sneaking into my Spicy Dill Pickle Lay's and then totally forgot what I'd been doing. #priorities #rationthesnacks