Wrote this before I went to bed last night. Sorry for the crappy iphone pics.
---
Today was a great day for me. I rode my bike to the beach for the first time in 8 weeks; two blocks there and two blocks back + a quick pitstop for some chicken. All I kept thinking was don't fall down in the store, don't fall down in the store. I didn't fall down in the store.
There hasn't been a health update here recently because I don't want to come across as a whiny, broken record. How many times can I say my right side is weak, I'm working on it, tired, frustrated, infinity? But still, I think it's important to remember what recovery is; what healing looks like and how it feels. Last week was a wild one (for me) so here goes.
Somehow, despite not wearing much make-up, I earned VIB status at Sephora and got invited to their 20% off event. Picture me, no clue about lipstick, meandering through throngs of cosmetic junkies trying to find a sales associate for red lipstick 411. Call it epiphany or insanity, but Taylor has me hooked on the idea of barely there makeup with a red lip. Two hours later I walked out victorious! Wind beneath my wings, I slid behind the wheel of my car and onto the freeway where my windshield got hit by a stray rock and I watched the crack spread with each passing mile. By the time I got home I felt like smushing that lipstick into the sidewalk.
Then my favorite (and only) ceramic knife snapped in half.
The dryer light went out.
The washer stopped working on the normal cycle.
The frame on the couch splintered.
And, finally, my hair accidentally got colored something between a dark brown and black.
Think Morticia Addams with an orange hue.
By the time Wednesday night rolled around, I was done. Given that my propensity for problem solving is at an all-time low, I went to bed at eight o'clock seriously contemplating if I could hide out until spring – or however long it would take for the laundry fairies to show up and the hair to remedy itself. *delusional*
The next day I came close to canceling dinner with one of my funniest friends in town from NYC. Somehow I pulled myself back from the edge, tucked my hair behind my ear and threw on some black clothes – and the red lip! With that I headed out, into the dark and on my own, for my first night out since the stroke. Shortly after arriving, someone in the party remarked that my hair made me a dead ringer for the two-headed witch on this season's Coven. Let's just say I went home hours later with my face and sides sore from laughing. Deciding to still go and have fun despite my feelings was a good thing.
Friday morning my hair was really bothering me so I nutted up and took it to the phone lines scoring a consultation at a top salon in LA for the very next day. Those people took one look at me, glanced knowingly at each other, and four hours later I walked out with the softest brunette hair + one hell of an amazing haircut, not to mention so much respect for the team that accomplished it. It's got a few more steps to go, but I swear I heard angels.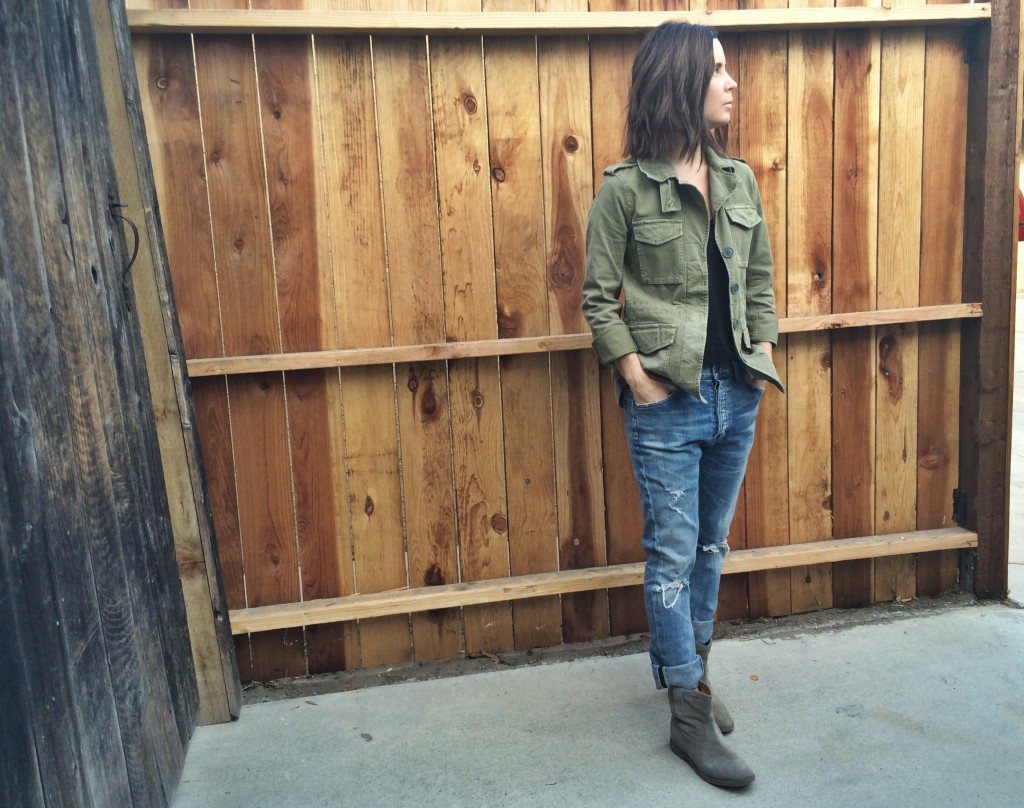 The long and short of it is, eight weeks ago I couldn't have accomplished or handled even one of these things.
That thought donned on me in the middle of all this crazy stuff happening – I guess this means I must be getting a little better because who else is going to take care of all this?
Too be clear though, all I've really dealt with is the hair. Tonight I chopped up kale with a pizza cutter. One step at a time.