Yesterday while H&M was being mobbed by people who didn't get any of that Balmain stuff, Olivier Rousteing was jumping up and down on his bed tossing dollar bills in the air like he just didn't care. Because he didn't. He never did and he never will.
"Come peasants, line up to get my cheap knockoffs while I selfie with the celebs who got paid to sport this scratchy crap on IG while drinking loads of champlagne (that's drunk for champagne) and dancing around to the Backstreet Boys!" 
Did people really think H&M would have enough goods to go around to the masses? That the website would miraculously work? Did they honestly believe that Olivier and the House of Balmain wanted to see a D grade Balmain Nation flooding the streets?
The ragers (and emotionally distraught) took it to Instagram to give Olivier and Balmain a piece of their minds. Gems in the bunch included:
@adioskitty 

This collection gives me a lady boner

@50shadesofhayyy 

Oh wow Cindy (Crawford) must have lined up outside the store for dayyyys 😒 what dedication 

#BALAME
@ferbalcazar 

I waited in line for 7 hours for NOTHING. I wasted my entire morning. I fucking hate 

#Balmain

 now.

@50shadesofhayyy 

Is it really a balmain nation? Or more like a very tiny balmain private island? 

@aries0324 

Unfollowing this stupid ass company

@aries0324 One word: FUCK
@takarasewitt: Help
@intxchrst Suck your mom
@dmzaf 

Balmain for eBay it should have been called,

@jazi_boo2u 

You all must be miserable to stock someone's Instagram because of a limited supply.. Go buy a Micheal kors from Ross and kill yourself.

@tor424 Fleepig hell.
@qtootie You people are insane. Can we just all be grateful he even collaborated with H&M Cous our broke asses can't afford the real balmain.
@zaid_raed97 You are a liar. Leave Balmain right now.
@pretty_baby_wit_the_high_heels Everything is sold out and I didn't know this was a one day thing
And my personal favorite:
@molina_olivier_69 I UNFALLOW YOU ! You kidding your fan ! I have waiting 6 Hours !! 5 .00 morning at 8 . 40 They are no thing for men ! I was on the 70 personne ! Normal !? Fk you Bitch money that all
There was also a girl who went from rage to lying on her bed spent because she got none of what she wanted to wear to her graduation and, like, now what? NOW WHAT OLIVIER?? WHAT'S SHE SUPPOSED TO WEAR TO HER GRADUATION?
Olivier responded to the wannabe Balmain Nation by posting a selfie of him and mama Krapdashian complete with smushy kisses: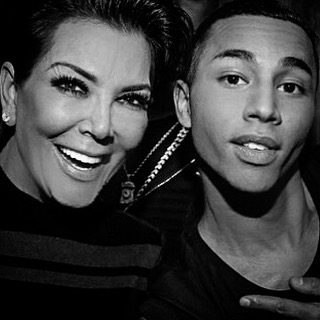 HAPPY BDAY ❤️ @krisjenner LOVE U so much ! From the bottom of my heart You are an amazing woman and such an incredible friend ! Enjoy your day and cant wait to see you 😘
You know, just so the masses would be clear on who he's really designing for.
But they didn't notice. They were still clicking refresh on their browsers just in case.