Chris (reading sign): Here you leave today and enter the world of yesterday, tomorrow and FANTASY.
Me: Scott Speedman must be in there.
—————
Last week Chris and I went to Disneyland to exhaust his niece and nephew. I'm not much of a rides person but do love a Dole Whip, a churro and sometimes even a janky pretzel (no plastic cheese please).  So basically I go to Disneyland for the food.
And the headgear.
Before we'd even left the house I was already thinking about what lid I was going to get. Minnie ears? Already have two pairs. Mickey ear hat with my name embroidered on back? Stranger danger not safe for anyone to know my name. Princess hat with the veil thing? Um, hell no.
We were about five minutes into the mob park when his mother needed a bathroom break. By then it was a full scale downpour and everyone's clothes and shoes were soaked. All I kept thinking was, WE'RE GONNA NEED COATS AND SWEATSHIRTS AND SOCKS AND HATS AND AND AND, but no one was even interested in the $10 garbage bag poncho. Who are these people?
While she went to line up, Chris stood under a dripping tree with the kids and I spotted a chipmunk hat and went in for the kill. This is the stuff dreams are made of when you've spent weeks sitting around your unfurnished home for 12 hours a day wishing you were back in your formerly furnished beach shack of ten years. More on that later. When no one would cave for a hat even after I offered to pay for it (several of its!) I knew I was on my own. Except for the woman who sold it to me with a knowing gaze saying, "oh yeah, that's the one," but let's face it she had a shift to finish.
Securing that chipmunk to my head I took off in the direction of the Star Wars gift shop to try on a fuzzy Chewbacca backpack. Kids these days need some loosening up so I tried on a Yoda and an ewok to get the party started. Who doesn't want to walk around with a stuffed Chewbacca on their back? Everyone in my party except for me, I guess. I still regret leaving that $68 pile of plush behind. Can you imagine the looks I'd get at the grocery store when they ask if I need a bag and I turn around and tell them to fill up my Chewbacca? NEXT LEVEL
Ya dig?
So anyway, you don't need a play-by-play of me eating mickey oreo ice cream sandwich after mickey oreo ice cream sandwich wearing a sopping wet chipmunk on my head while Chris and the kids fast passed it through anything I might gag on. Or of his seven year old niece who has never eaten processed food finally taking a bite of a fake cheese filled pretzel only to spit it on the ground screaming in a crowd of 4000 people. Or of us paying $22 for the black bun Star Wars burger that was littered with breaded green beans and no way in hell real beef. As his niece put it, "If that's supposed to be a Star Wars sandwich I have a hard time believing a storm trooper would eat it."
What you might want to know is while I was trying to amp up our soggy crowd (which by the way at the end of the night was begging for an overnight at the Disneyland hotel) I fell in love with Snapchat. Guess I haven't aged out yet after all. Instagram is dead. It is the no-fun zone. Snapchat is where bored or creative or repressed people go to let out their inner crazy. I don't know what the rest of them are doing on there.
@thisfreebird for anyone else who is mildly to moderately unstable. (as evidenced throughout and below).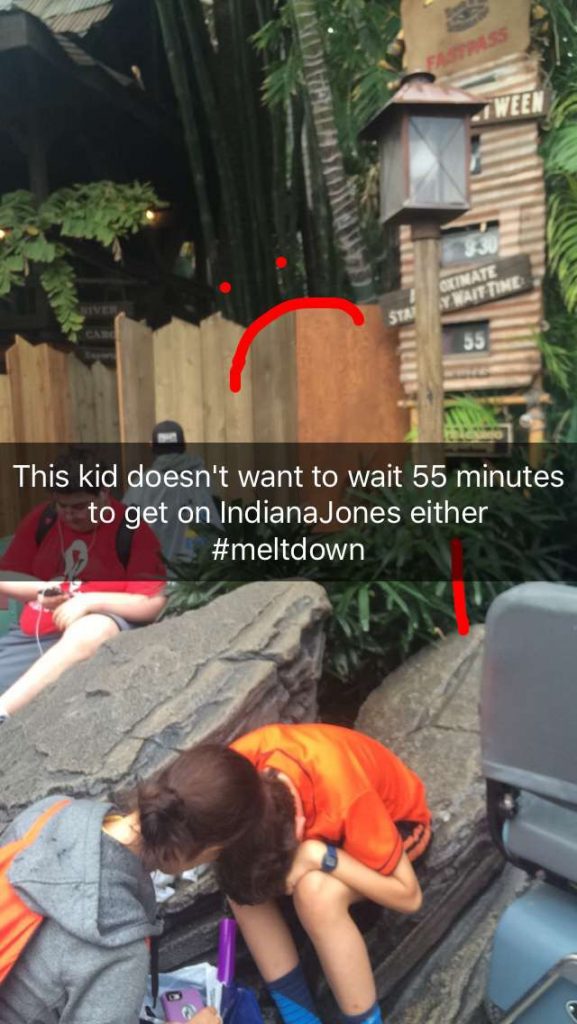 Coincidentally, also me around 7:30pm
Not even sure what to say about this.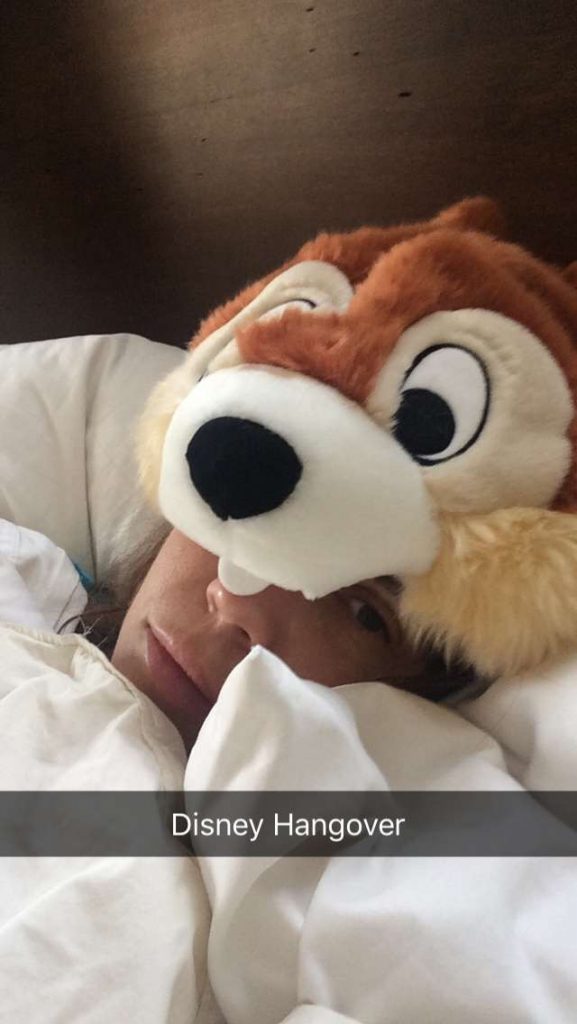 No really, it's a thing.